Special Projects...
By a continued policy of Research and Development, Conbar keeps ahead with new Technology, actively pursuing an "in-house" programme of technological research.
Some examples of "firsts" in technology (at the time) are:-
Trenching machine
this machine was designed and builtin the UK and
trenched between the Java -Madura Straits in Indonesia,
for simultaneous laying & burying of
power cables.
For details please roll over image.
Hover Dredger
The World's first !
For further details please roll over image
Environmental
dredger
capable of removing siltation
at up to 85 - 95% concentration
For details please roll over image
The Port Frederick
Designed in the UK and Built inTasmania,Australia, multi purpose
Trailing Suction Hopper Dredger,
oil skimmer andfire-fighting vessel.
For details please roll over image.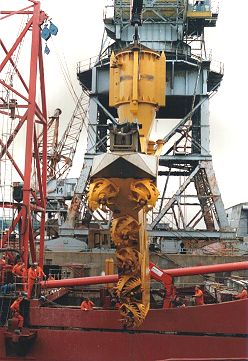 THE HOVER DREDGER
A DELELOPEMENT OF THE STANDARD CUTTER SUCTION DREDGER BUT WITH THE ADDITION OF SKIRTS AND DIESEL ENGINE POWERED LIFT FANS -DESIGNED & BUILT FOR 'MACKLEY CONSTRUCTION LTD' IN THE MID 70'S.
The approach to the site was over mud flats, making access difficult, hence the hover design, which allowed the dredger to skirt over the mud flats and due to air cooled engines the dredging time was not dependant on the tide.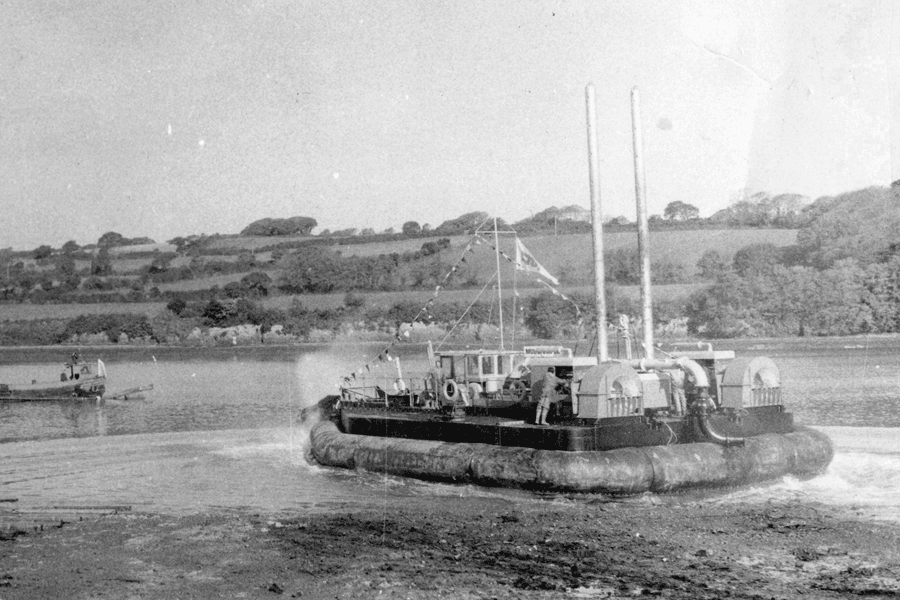 The Environmental Dredger
is so named because it is eminently suitable for dredging contaminated siltation and other pollutions which affect the environment. With environmental concerns at the forefront and heart of the future of dredging, the environmental dredger provides a cost effective and efficient solution to environmental problems.
It was developed through extensive research and trials in Venice, Italy, and it was found that a concentration of up to 90% of solids could be removed, thus making the system ideal for the removal of siltation from lakes, rivers, harbours etc.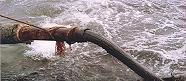 •Material can be pumped almost insitu into containers for treatment
•One man operation of dredger
•No winch wires required - easier dredging
•Self propelled
•Automatic adjusting
•Environmentally acceptable in confined places
•Reservoir desilting with minimum water removal
•Canal cleaning (unless heavily dumped, in which case combined machines may be required)
•Able to work in less than 0.8m of water
•Running costs less than any other known system of dredging
Does not need winches
Ideal for tight situations, e.g. canals, Marinas, Ports, where winches hinder other traffic and manoeuvrability.
No need to re-accommodate craft in Marina whilst cleaning up
Cost savings, less inconvenience for craft owners
Has its own propulsion units
No need for tug boat or workboat. Gives increased manoeuvrability
Save on cost of workboat and on cost of manpower to operate same
Has a low draft, and no Spuds, and uses thrusters to stay in position
Easier access to places at low water, means continuity of operation
Increased productivity

Port Frederick
Not just a Trailing Suction Hopper Dredger .....
This unique vessel was originally designed to eliminate the need for numerous, and often unused, vessels in the port. Despite its size, it had complete manoeuvrability in the harbour and restricted waterways due to twin 360 degree steerable Aquamaster propulsion units and a 360 degree steerable Aquamaster bow thruster.
Built originally for the Port of Devonport Authority,Tasmainia, It has now gone into private ownership and is operated by McQuade Marine, who use the vessel to undertake various dredging operations around Austraila and New Zealand.
Used for:
Maintenance Dredging
Fire fighting for port
Sand and gravel dredging for construction industry
Oil pollution skimmers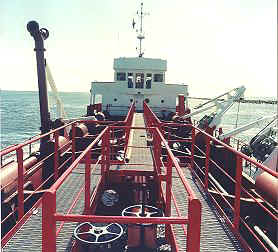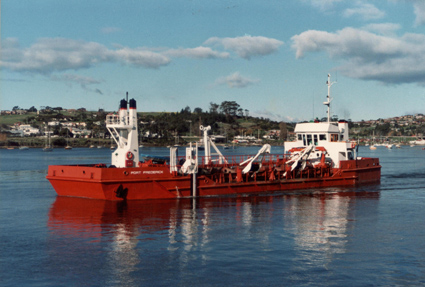 With a length of 160 ft x 40 ft beam, she was modular constructed on a slipway in Devonport, Tasmainia, Australia.
Speed 8 knots (loaded)
Bollard pull of 16 tons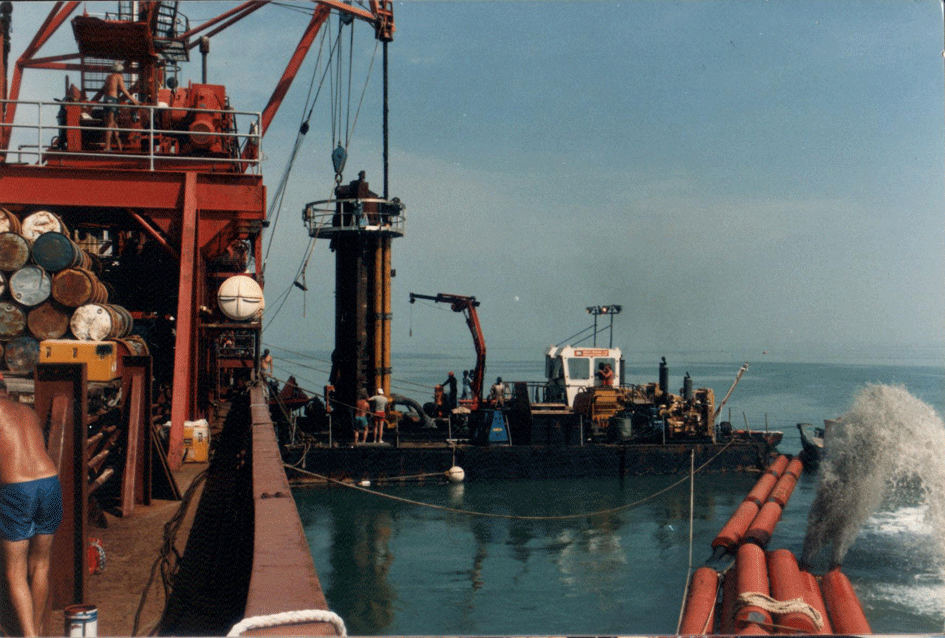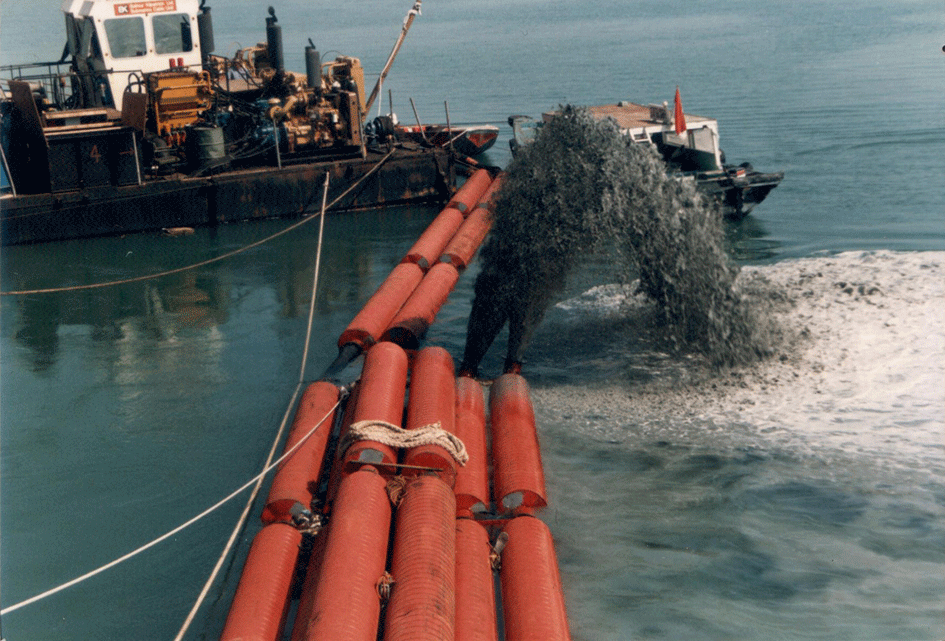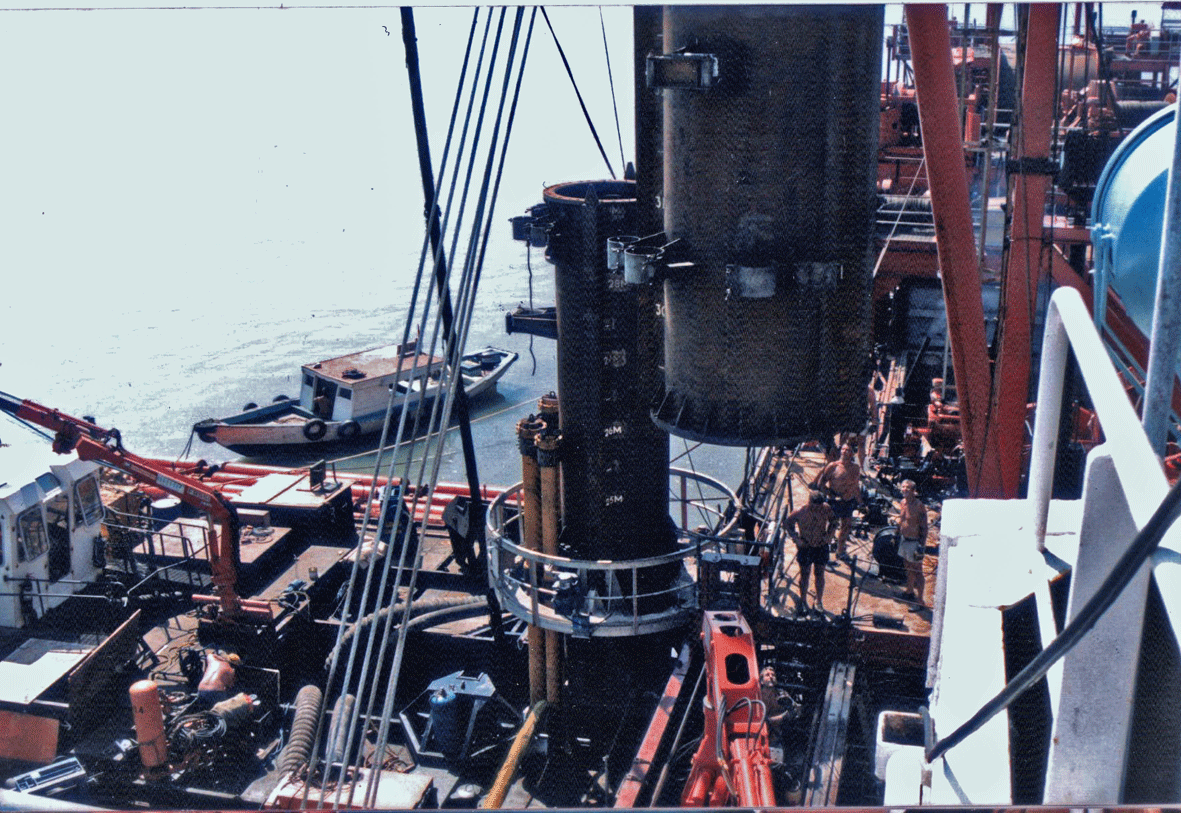 Trenching Operation in Indonesia
Trials in Falmouth UK
....Preparing to go deeper....