47 Higher Cadewell Lane , Torquay , Devon ,TQ2 7EX
United Kingdom
Reg Number 06591353 (United Kingdom) VAT number 915 2781 21
Richard Cudmore tel.+44(0)1803 400950
tel.+44 (0)1803 663813


COMPANY PROFILE & History
---
Conbar UK LTD is a Dredging Design and
Research Company with over 35 years
experience in the dredging field, and has a
world wide reputation -
---
Conbar UK LTD was formed to provide a service, not only to new clients, but to look after the interests of existing customers that we have been associated with over the many years that we have been in the dredging industry.
Both of Conbar UK LTD Directors spent over 25 years each, working for Conbar International as designers under the watchfull eye of the original founder who was responsable for partly building Ponsharden Shipyard in Penryn, Cornwall ,where many of Conbar International's Cutter Suction Dredgers were built ( some of which are still operating today) along with barges and pontoons.
Dredge Marine's Ponsharden Shipyard as seen in mid 1970's Penryn, Cornwall
It's UK designed equipment successfully operates in many areas of the world including areas of Africa, Australia, The Middle East, India, South America, Europe,and The United Kingdom.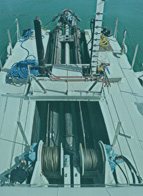 Please click image for details of some of Conbar's Dredgers built over the years
Conbar UK LTD offers the following standard range of products:-
Conbar UK LTD
---
can also offer a tailor-made service to meet
your requirements using the skills obtained in
the many different dredging scenarios that
have been experIenced in the history of
Conbar International.
---
Please click image for details of some of Conbar's Special Projects undertaken over the years
Fully Qualified Designers and Engineers
Manufacturing Supervision
Spares Supply and Engineering Backup
Full Design Responsibility