Conbar DEWATERING PONTOONS
MADE USING standard and non standard 'flo-pipe'©
CONBAR UK LTD HAVE VARIOUS
DESIGNS OF PONTOONS FOR MOUNTING VARIOUS DIFFERENT TYPES OF PUMPS FOR DEWATERING OF QUARRY PITS TO SMALL SCALE DREDGING.
by utilising our flopipe system you can have an inexpensive pontoon in a few weeks from order.
Please contact us for details and for YOUR specific requirements.


Pontoons are of modular construction and can be easily transported to site by standard weight and size trucks and it takes only a few hours to assemble with a small team of personnel.
A small Crane or truck mounted' Hiab' type crane will probably be required to off load the modular sections of the pontoon and to help with assembly and finally lifting into water.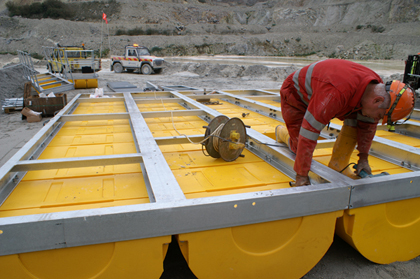 Putting together the modular 'Flo-Pipe' floating sections of the pontoon.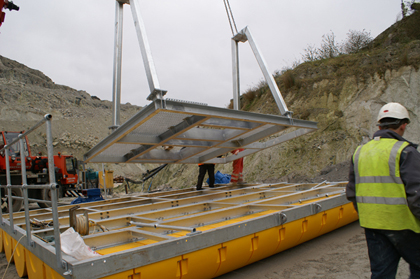 Building up the hand rails and lowering the Pump and Motor bedplate ready for positioning.